Both China and the US are on track for robust rebounds in 3Q and 4Q. The recovery path of the world's two largest economies is however strikingly different.
Commentary: Different shapes of recovery
In a year characterised by sharp economic contraction, historically large policy support response, and a once-in-a-century pandemic, the final stretch is characterised by vigorous financial markets and economic rebound, and yet, lingering uncertainties about outbreaks.
Perhaps no other economy has seen the sharp contraction-to-recovery swing like China. After contracting in 1Q, China has come back strongly, both in terms of dealing with the pandemic and resumption of economic activity. It is noteworthy that while China's pandemic response was extremely forceful, the economic support measures were modest by global comparison. Only when factories re-opened in 2Q that livelihoods began getting restored.
The result is clear—Chinese companies have been busy producing and exporting, chalking up impressive growth lately. Meanwhile, domestic demand, while improved, still has a long way ago, as seen in the rather subdued retail sales figures. Our China GDP Nowcast model is tracking 4Q growth at 6%+, after 4.9%yoy growth in 3Q. Despite all the talk of trade wars and supply chain fragmentation, external demand for China's products remains resilient.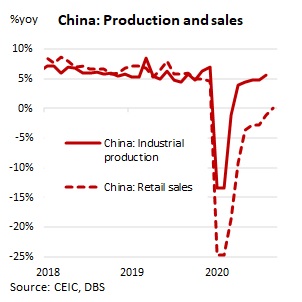 The US recovery path stands in sharp contrast to China. Aided by generous stimulus measures, US consumers, despite considerable uncertainty about livelihood and still-high Covid-19 infection rates, have gone back to shopping. Retail sales have gone strength-to-strength lately (up 5.4%yoy in September), benefitting from public sector support, low interest rates, and low inflation.
The picture is less bright on the production side. US exports recovery has been slow, with August goods exports running at -14.6%yoy (China's latest print is +9.9%yoy). Industrial production (-8%yoy in September) has come back, but at a far slower pace than consumption. Putting these data together, we see the US real GDP contracting by 4% in 2020.
The contrast between strong consumption and weak production is showing up in the trade data, with declining exports and recovering imports combining to create two USD80bn plus trade deficit outturns in July and August. The foundation of the US economy remains firmly set on consumption. China remains anchored on production.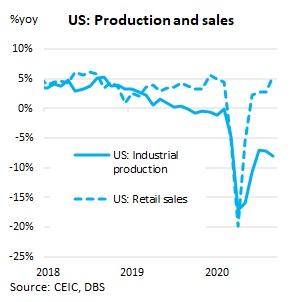 Taimur Baig
To read the full report, click here to
Download the PDF
.
Subscribe
here
to receive our economics & macro strategy materials.
To unsubscribe, please click
here
.