Bank Indonesia extended its pause on rates, in place since August as financial market stability took precedence.
Bank Indonesia extends rate pause
Bank Indonesia extended its pause on rates, in place since August, along our expectations, as financial market stability took precedence.
Economic assessment:
Authorities drew confidence from the improvement in lead indicators, also expecting external stability to sustain as evidenced by the expectation of a likely current account surplus in 3Q20. 2020 CAD is seen at below -1.5% of GDP. On IDR, BI reiterated that the currency is undervalued, with appreciation expected to continue, likely benefiting from the tailwinds of recent reforms as well as narrower CAD, inflows and benign inflation.
To keep conditions accommodative, IDR667.6trn worth liquidity has been injected into the banking system, in a bid to revive credit growth which slumped to 0.1% y/y in September. BI's cumulative direct government bond purchases stands at IDR229.68trn by October, about 60% of the scheduled absorption by private placements this year. Governor Warjiyo maintained that the central bank will seek to strengthen its policy coordination with the government, even though the outright burden-sharing arrangement remains a one-off.
Policy implications:
A benign inflation trajectory has kept real rates in strong positive terrain this year (see chart). While this provides room lower rates, BI might opt to retain ammunition to defend against downside risks to growth as well as maintain rupiah stability. The currency has returned to be the regional underperformer on year-to-date basis, despite eking out 1% gain vs the US dollar this month. Against this backdrop, the willingness to narrow differentials further will be low. Rates are likely near the floor, with only a sharper-than-expected growth shock likely to stir authorities into action. Non-rate measures will be the preferred route to support the domestic financial markets, especially the bond markets in the near-term.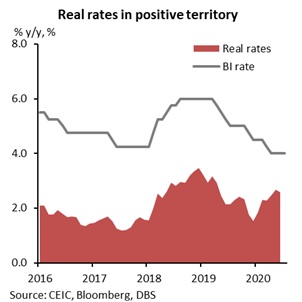 Fiscal spending catches up
We noted in
Indonesia: Tough policy choices amid downside risks
that the 2020 YTD fiscal run-rate until July had been slower that recent years.
There was some catch-up in August
, as total expenditure jumped 86% y/y, nearly doubling from July's outlay. This increase was concentrated in personnel spending, social assistance, regional transfers/ village funds alongside subsidy payouts. Capital expenditure was scaled back for a second successive month, likely due to reallocations to make way for the support packages to defend against the health crisis.
Of note, stimulus disbursements worth IDR695trn national economic recovery (PEN) [1] edged to 44% by late-September, with 74% of allocations towards the social safety net completed. This pick-up is encouraging after capacity constraints and beneficiary identification slowed the rollout in first few months of the year.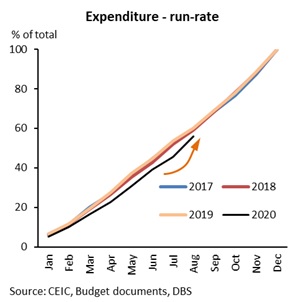 Revenues contracted by a smaller 18%, reflecting a smaller contraction in VAT receipts and income tax collections due to weaker activity. Non-tax avenues also faced a challenging time as subdued commodity prices kept a lid on natural resource revenues, as did weak profit transfers from state owned enterprises. Netting off the two, the deficit jumped to IDR 170trn in August, doubling from month before and widest in the current time series.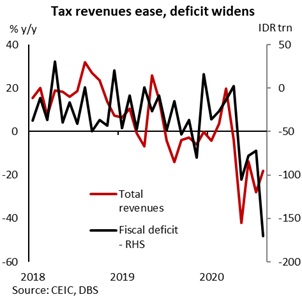 Year-to-date, expenditure has reached the 56% mark of budgeted quantum by August, with the fiscal deficit also nearly at the half-way mark by August. Spending is typically backloaded, which implies an acceleration in disbursements can be expected in the remaining four months of the year. The prevailing run-rate still points to a smaller than budgeted deficit (0.5-1.0% of GDP short vs target) this year. Deficit risks at this juncture hinge more on the extent of revenue shortfall rather than a sharp rise in spending, with the former to dictate if this year's deficit widens to the budgeted -6.3% or falls short. In our view, the deficit is likely to end close to the target, as a pullback in spending would be detrimental to recovery expectations.
Larger thrust towards medium-term reforms
The government successfully passed the omnibus law on job creation earlier this month, with an aim to make the business environment more competitive. The omnibus route helps the authorities' bunch together, key, even if unrelated legislations, and allow parliament to vote in a single seating. Few of the highlights of the bill that was passed last week included:
a) Labour – the maximum severance pay is proposed to be lowered to 19 months of salary from prevailing 32 months, with six months paid by the government. An unemployment fund will also be created, which will provide wage support, alongside exempting SMEs from minimum wage requirements. Proposed to cut mandatory leave and allow longer work hours;
b) Investments – the banned sector list was trimmed from over 300 to 6 industries. Business permits can be sought from the Investment Coordinating Board. This comes on the heel of new foreign ownership regulations, as highlighted by the MOF, e.g. for distribution and warehousing, the limit is from 33% to 67%.
c) Taxation – follow-up of the corporate income tax cut from 25% to 20% in 2023. Dividend taxes are scrapped if the funds are reinvested domestically. In case of national priority programs, the government might be able to intervene with tax and levy policies set by provincial governments;
d) Sovereign wealth fund – plans are afoot to create a sovereign wealth fund to manage state investments, with an initial capital base of US$5bn, helped by $2bn injection by the government and add other assets including stakes in state companies.
e) Landbank: To ease land acquisition for priority investments, there is likely to be a provision for the government to acquire land and redistribute the plots
While some provisions have been diluted since changes were mooted last year, the bill targets to lower high labour costs, liberalise contract work (beneficial in midst of COVID-19) and iron out overlapping legislations at the provincial and central levels. Details are yet to be fleshed out and approved. An investment friendly environment targets to attract higher foreign direct investments (~2% of GDP), which will also contribute to financing the economy's current account deficits.
Given the uncertainty caused by the pandemic, investment realisation moderated in 2Q20 by ~4% y/y, led by lower foreign investments. Amongst the sectors that drew FDI included metals, utilities, and food industry, whilst interest weakened in mining, chemical/ pharma and transport warehouse & telecom. Cumulatively, 1H20 investment realisation (excluding O&G and financial services) is close to half of the full-year goal set by the government. As few of the omnibus regulations are tweaked and reforms implemented, Indonesia might be able to draw in more interests from offshore entities, with a stabilisation in the global pandemic situation a necessary precursor as well.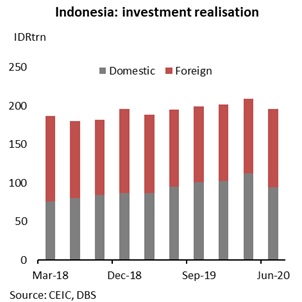 Suggested labour changes have stoked social protests and unrest in parts of the economy is the past week.
The government has remained steadfast in pushing through with the reforms, with the protests hurting domestic financial markets at the margin. Developments are likely to be watched closely.
Moderating growth expectations
Pandemic management is likely to remain a priority for the government, balancing with livelihoods as the economy continues to reopen. The capital, Jakarta had re-imposed temporary large-scale social restrictions (PSBB) last month, albeit less stringent that those at the height of the COVID-19 outbreak. Rising number of cases (Jakarta makes ~26% of the total cases). This week, the PSBB restrictions are being rolled back and the city returns to the 'transitional' phase of the PSBB, under which essential industries i.e. health, food, energy, logistics etc. will operate at full capacity, while non-essential face capacity constraints and need to observe track and trace requirements.
Localised/micro movement restrictions continue to be preferred response to an increase in cases. Case in point, while Jakarta has partly relaxed restrictions, West Java's administration has extended the PSBB until Oct 27 according to the local press, with satellite areas expected to adhere to zonal re-impositions etc.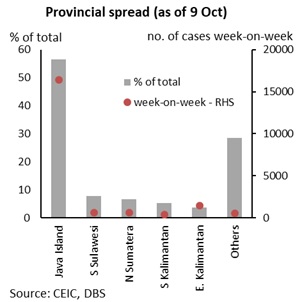 The chart highlights that the bulk of infection cases are concentrated in the Java island, which is also the largest contributor to growth (60% last year). With most businesses running below capacity, there is likely an impact on income and employment prospects. At the margin, closure of international borders will also impinge on the country's tourism receipts, especially cities like Bali. On exports, regional peers which are deeply integrated to the global supply chain for semiconductors and electronics exports have fared well in the past six months, including China, Taiwan, South Korea, Singapore, Vietnam etc. The commodity-heavy and traditional export mix of Indonesia's basket are still to recover to pre-COVID91 levels.
Our inhouse DBS GDP Nowcast model, which analyses an array of high frequency (monthly) indicators to make a call on the ongoing and coming quarters on a real time basis, points to a contraction in 3Q20, before ascending to a smaller fall towards the end of the year.
Considering that the pandemic curve is only gradually being addressed, apart from the uneven response on social restrictions and below-budgeted fiscal disbursements, leads us to moderate our growth expectations this year to -2.0% y/y vs -1.0% previously. The Finance Ministry dialled down its official projection to -0.6-1.7% y/y vs +0.2 to -1.1% previously. Pullback in this year's outcome will prop 2021 growth number at the margin, to 4% y/y vs 3.5% currently. This is a shade conservative than the government's 4.5-5.5%. A swift discovery and mass availability of a vaccine pose upside risks to next year's trajectory.
Notes:
[1]
Jakarta Post
To read the full report, click here to
Download the PDF
.
Subscribe
here
to receive our economics & macro strategy materials.
To unsubscribe, please click
here
.