Record low rates and safe-haven investment demand will likely keep most governments' finances under control despite sharp pandemic-related increase in deficits and debts. But risks remain.
Chart of the Week: Debt jumps
Long before Covid-19, public debt in the US and EU had been high, while largely flat in Asian economies. That's all past, as historically large fiscal deficits will cause virtually all economies' debt to jump sharply this year. The IMF estimates a fiscal expansion of about 5% of GDP among emerging economies and about 10% GDP among G7. Exceptionally low interest rates make this one-off deficit expenditure relatively easy of afford, but is more debt simply a free lunch? We have doubts; even without inflation, rising debt comes with a variety of costs.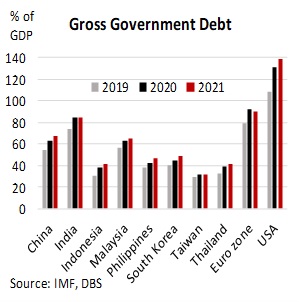 Commentary: A world of debt
In this crisis like no other, governments worldwide have accommodated a collapse in revenue and rising need for fiscal support by allowing their deficits to widen sharply. After the deep economic collapse of 2Q, a shallow recovery beckons, although fiscal pressures will remain for the time being. Among the countries in our coverage, most will feature fiscal deficits over 5% of GDP in 2021, coming on the heels of 5-19% of GDP in 2020.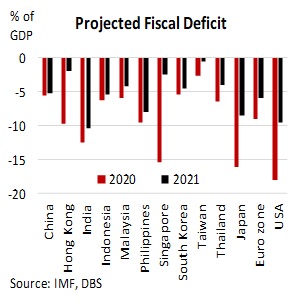 Record low rates and safe-haven investment demand will likely keep most governments' finances under control. The US is the most startling case in point—despite debt/GDP likely to climb by 30 percentage points between 2019 and 2021, interest payment as a share of GDP will remain flat due to plunging nominal and negative real interest rates on government bonds. Rates have fallen both in EM and DM, providing additional room to expand fiscally.
But affordability of debt service in the near term notwithstanding, the sharp expansion of public sector balance sheet will most likely come with consequences.
We concede that inflation, the most obvious risk of high debt (and its financing by money printing), is not a source of worry in the near term, owing to subdued food and energy prices, as well as weak demand. But even in the absence of inflation, ballooning debt can have a series of adverse impacts.
For instance, public authorities, emboldened by a softening of budget constraint, can engage in wasteful spending. As developing countries have shown over the decades, easy money, whether it is foreign aid or obtained through financial repression or money printing, leads to many white elephants that constraint growth and efficiency.
Furthermore, even with financial repression to keep rates low, interest payment burden could crowd out other expenditures. India is a cautionary tale, where rates are kept low by bond holding requirement in the banking system and central bank support, and yet, interest payment as a share of GDP is equal the spending on health and education.
For countries lacking reserve currency status, market support for debt could dissipate if fiscal discipline appears to be lacking. Such tests may well come sooner than later. We have seen this play out in the case of Indonesia in recent weeks, where announcement of greater central bank support for public sector debt issuance has been met with nervousness among fixed income investors. India, blessed with ample foreign exchange reserves and strong capital inflows this year, is still finding it hard to keep bond yield under check. Emerging market sovereigns beware.
Taimur Baig
To read the full report, click here to
Download the PDF
.
Subscribe
here
to receive our economics & macro strategy materials.
To unsubscribe, please click
here
.