Bank Indonesia extended its pause on rates for a second consecutive month.
Bank Indonesia extended its pause on rates for a second consecutive month, along our expectations
, as financial market stability took precedence. Below target inflation and a likely contraction in full-year growth make a case for further easing, but rupiah underperformance (-3.8% quarter-to-date vs the US dollar) is causing unease. Part of this is triggered by worries over an extended period of debt monetization as well as a likely compromise on central bank independence if the government gains representation on the BI policy board. Encouragingly, in recent remarks, the government has assured that the charter changes will be reassessed, and that the central bank's independence will not be compromised.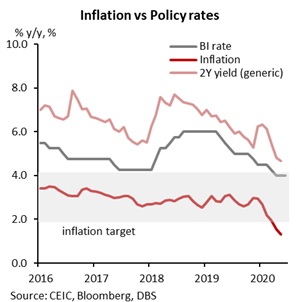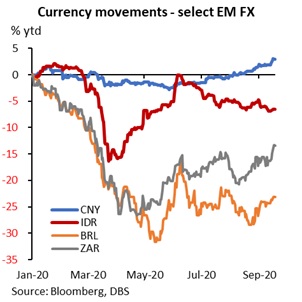 Policy cuts to unconventional support


From mainstream policy, the central bank's focus has shifted to unconventional policy steps
, including participating in this year's fiscal spending plan and stabilizing domestic bond markets through direct as well as secondary debt purchases.
The government has completed ~63% i.e. IDR957.4trn of the annual gross bond issuance by mid-September. Two-thirds of this i.e. IDR588trn is through conventional bonds, IDR270trn through shariah-compliant securities and 10% through private placements directly with the central bank. This takes the central bank's direct purchases to about a quarter of its full-year obligation. The rest of the year is likely to see IDR573.6trn worth of issuance, with a breakdown of IDR249.6trn bond auctions, IDR298.5trn through private placements with the central bank and rest by a retail bond offer. This suggests that the bulk of the central bank's participation is still to run its course, within the last 3 months of the year.
We had noted in
Indonesia: Tough policy choices amid downside risks
that the year-to-date fiscal run-rate has been slower than the past few years, with the COVID-19 related stimulus disbursements reaching the 34% mark by September. If spending continues to run below budgeted levels and even after considering potential shortfall in revenue collections, the full-year fiscal deficit might be 0.5-1.0% smaller than the budgeted -6.3% of GDP, also suggesting that the borrowing program has room to be scaled back if the need for borrowings falls. Nonetheless, weaker spending poses downside risks to growth, just as the capital city reimposes partial movement and capacity restrictions to contain an increase in the COVID-19 cases.
Markets are keen to gauge the longevity of these measures
, with BI playing a balancing act as they see this year's participation as an 'one-off' but plan to remain as a standby buyer next year, if recovery turns out to be elusive. Clarity on the eventual exit from this debt purchase program and implications on liquidity, will also be sought. With investors likely to watch this space closely, the need to maintain favourable rate differentials will be key.
Odds are, thereby, tilted towards a rate pause for the rest of the year, with an emphasis on effective policy transmission.
To read the full report, click here to
Download the PDF
.
Subscribe
here
to receive our economics & macro strategy materials.
To unsubscribe, please click
here
.