Common shocks (pandemic), policy response (liquidity injection, rate cuts), and macro drivers have led to some perverse but logical market outcomes.
Chart of the Week: USD and US rate
A likely driver of the US dollar are US interest rates. If they are high relative to key partner economies, the USD should appreciate; and depreciate when rate differentials narrow. But US rate cuts last year did not cause a rally in USD. So far this year, despite much chatter, the USD's rise has been modest compared to the rate differential compression, as reflected in low correlation of US 10-yr rates and the DXY index. Perhaps just a matter of time.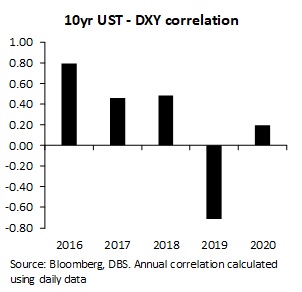 Commentary: Tracking cross-asset correlations
We have been tracking the evolution of daily correlations between 20 assets, ranging from equities to credit, government bonds to currencies, precious metals to cryptocurrencies. The motivation is to see if the ongoing crisis is causing a tightening or disintegration of the historical relationship among key financial variables.
Our prior is that correlations are rising, given the common undercurrents. Across the world, common shocks (devastating pandemic and deep recession), common policy response (record quantity of liquidity injection, central banks rates at their floor), and common macro drivers (search for yield, disinflation, weak growth outlook) have led to a series of perverse but logical market outcomes.
Key observations from our correlation analysis:
• The traditional relationship between the USD and US rates has broken down. Higher rate differential used to strengthen the USD; but over the past couple of years rate cuts have not materialised in a major USD correction. Perhaps it's around the corner.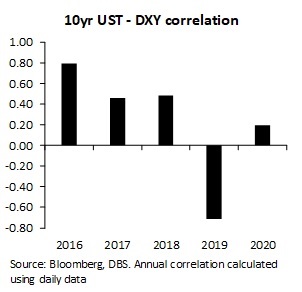 • Credit correlations between developed market economies and Asian economies, as well investment grade and high yield bonds, are high this year. The degree of pervasive credit correlation is similar to 2016 levels, which we think has been heightened by a synchronous global growth slowdown due to the pandemic, as well as broad tightening of USD liquidity in the emerging economies.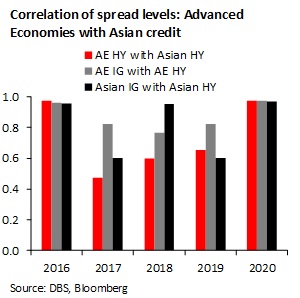 • As the pandemic shock materialised, initially all credit sold off; the rebound has been equally sharp. This suggests that markets are expecting a short and sharp recession, as compared to a long drawn out one that could challenge high yield credit more significantly. We note that in 2018, there was greater discrimination between Asian high yield and advanced economy high yield credits because of the trade war. The Asian credit risk premium has persisted till today, even if correlations between the two have risen back up in 2020.
• We find that treasury yields had only marginal influence on credit until 2018, when higher yields from the US Federal Reserve's balance sheet reduction led to a jump in EM USD sovereign spreads.
• However, the relationship inverted in 2019-2020 as trade risks drove the Fed to backtrack on tightening, leading to lower UST yields, while EM risk aversion remained high. 2020 saw UST having increased synchronicity with even advanced economy high yield, due to the pandemic shocks to credit spreads and risk-free yields.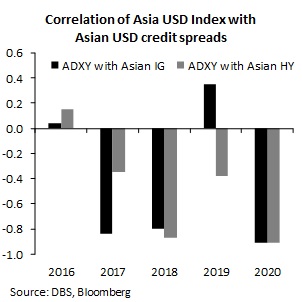 • Asian currencies (ADXY) are almost always inversely correlated with Asian USD spreads. In 2017, Asian currencies rose against the USD, coinciding with Asian spread tightening. Both moves reversed in 2018. In 2020, the dollar's gyration has been mimicked by credit spreads, keeping correlations high. This suggests that both Asian FX and credit are driven by common factors such as cyclical growth outturn, and US monetary policy.
• Emerging market equities tend to take their cues from developed markets, undermining any hope for decoupling. After enjoying a lull in 2018, the outlook for EM equities has largely been a function of VIX volatility.
• We have seen a remarkable rise in correlation between Bitcoin and gold prices. Even though inflation worries are marginal, increasing frequency of shocks and high bouts of uncertainty have fuelled the demand for alternative assets, including crypto currencies like Bitcoin.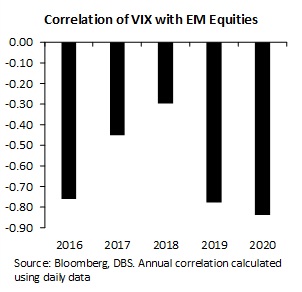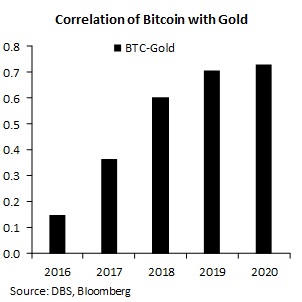 In conclusion, underwritten by public sector support, fixed income yields and credit spreads have narrowed worldwide, while equity prices have soared due to compressed risk premium. But at the same time, cross-asset correlations have risen, with widespread rallies this year. What happens to correlations as downsides emerge remains to be seen.
To read the full report, click here to
Download the PDF
.
Subscribe
here
to receive our economics & macro strategy materials.
To unsubscribe, please click
here
.