The Reserve Bank of India monetary policy committee (MPC) left the benchmark repo rate unchanged at 4% along our expectations.
Temporary pause
The Reserve Bank of India monetary policy committee (MPC) left the benchmark repo rate unchanged at 4% along our expectations (India: RBI preview and financial sector health). The policy corridor was also preserved, with the reverse repo rate at 3.35% and Marginal Standing Facility (MSF) rate at 4.25%. Policy was maintained with an accommodative stance.
Markets had pared rate cut expectations prior to the policy decision (see chart), with the spread highlighting expectations that the rate cutting cycle is nearing the last leg.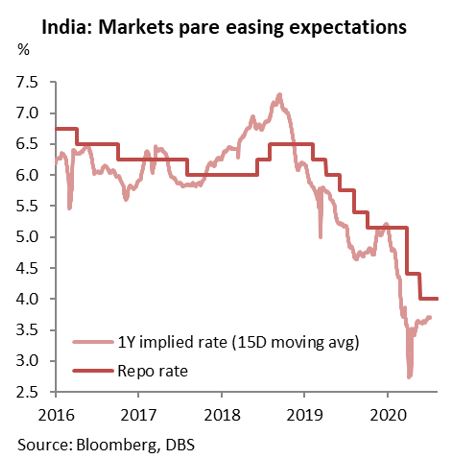 Economic assessment: The MPC reiterated its cautious stance on the back of re-imposition of lockdowns in pandemic affected cities and states but drew confidence from high-frequency data signalling that the worse of the slump in economic activity is behind us. The RBI refrained from providing a growth projection, whilst repeating that growth in FY21 is expected to stay negative.
The view on inflation was that short-term pressures would keep the headline above target, but ease back into range towards end-year. Food inflation was expected to stay elevated due to supply chain disruptions on account of COVID-19 (vegetables and protein-based) but turn favourable when the rabi crop supplies dampen cereal prices in midst of higher open market sales and higher procurement helps expand public distribution offtake. Non-food pressures are seen as sticky due to higher fuel taxes, imparting cost push pressures going forward, (we add) high gold prices feeding through personal care segment. For guidance, headline inflation is seen as elevated in 3Q20 but ease in 4Q20-1Q21 (2HFY21).
Guidance: While the overall assessment was accommodative, in the near-term the MPC will stay guarded, which is also backed by the three-month households' inflationary expectations > one-year gauge. Inflation is expected to ease towards 4Q20 as COVID-19 related impact fades and favourable base effects resurface, which might provide a window to resume easing, if economic activity remains subdued. We maintain our expectation for another 50bps this year, marking the bottom of the rate cutting cycle.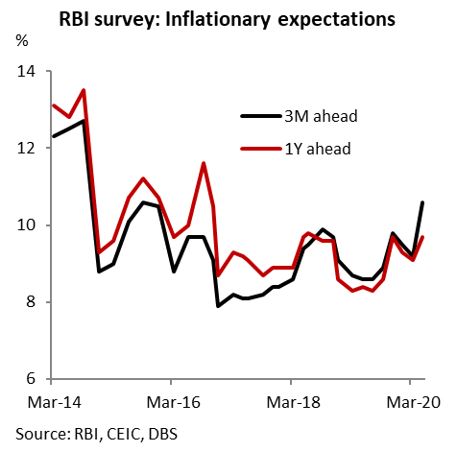 On transmission, there are some encouraging signs: a) spreads of 3-year AAA-rated corporate bonds vs 3Y GSecs narrowed from 276bps between March 2020 vs July 2020, with similar compression in AA+, AA and lowest investment grades also seen; b) for NBFCs, AA+ 3Y NBFC bonds vs GSecs are down from 360bps to 139bps around the same timeline; c) weighted average lending rate on fresh rupee loans sanctioned by banks fell by 162bps during February 2019-June 2020, of which more than half has happened between March to June 2020.
Financial and development announcements
Details on the financial and developmental announcements can be viewed here and here.
The most-watched aspect was the decision was for financial sector players, who had been provided with a loan moratorium which ends in late-August. To allow affected borrowers some breathing room, a one-time debt recast window has been introduced (on the basis of the June 2019 circular on stressed assets). An expert committee is likely to arrive at the nuances (financial parameters, tenor eligibility etc.), which will include corporates, personal loans and smaller businesses. Few features included – i) to qualify, the borrower accounts would have to be standard as of March 2020, with this status likely to be maintained till the date of the invocation; ii) few provisioning requirements will also need to be adhered to, e.g. lenders shall have to keep additional provisions of 10% on the post-resolution debt; iii) lenders may allow extension of the residual tenor of the loan, with or without payment moratorium, by a period not more than two years.
Returning to a phase of negative real rates
After a prolonged phase of positive rates since 2014, real rates returned to negative territory – inflation vs repo rate, deposits as well as 1Y T-bond yield.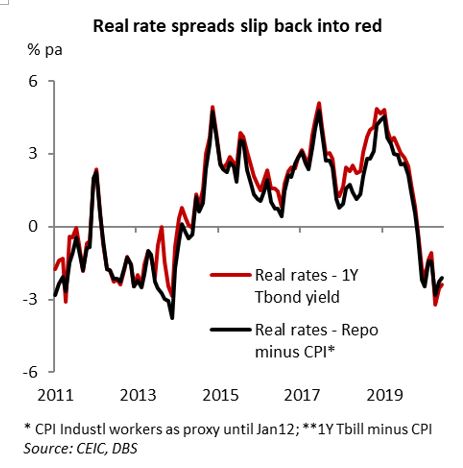 Past linkages between positive real rates and savings behaviour is, however, being tested in the current cycle.
Firstly, Following the 115bps repo cuts and 155bps reduction in the reverse repo rate since the start of the year, part of the transmission has been led by a cut in the bank deposit rates (paving the way for lending rate cuts). Saving rates have fallen, but demand and time deposit growth has accelerated to 12% y/y and 10.6% respectively in May-June. A good part of this can be classified as driven by higher precautionary savings in midst of the pandemic, also implying potential deferment in consumption and spending in midst of an uncertain economic environment.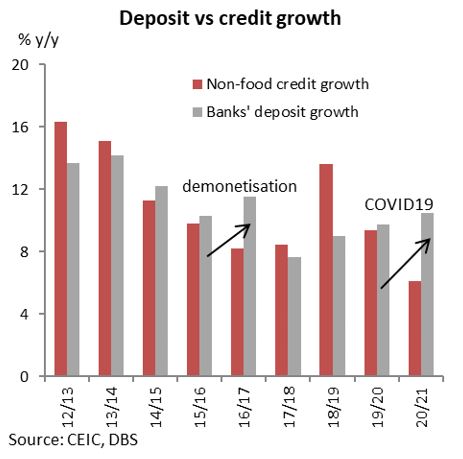 Secondly, back in 2018-2019, despite a wide 300-400bp buffer, there was no material pick-up in the banks' deposits, lagging credit growth and raising concerns over a structural liquidity gap. India's overall savings rate, led by households, has also been on the decline in recent years, even after the real rates recovered from a sharp deficit before 2013. This has raised questions over the role of interest rates, in isolation, as a driver of savings behaviour.
A study by RBI staff [1], interestingly, highlighted that deposit growth holds a closer relationship with nominal GDP trends rather than deposit interest rates. It was established that income levels were the most powerful in driving deposit growth in the short-and long-term, while rates mattered only at the margin (low coefficients). If this view holds water, then the justification that real rates needs to be high to boost deposit growth, weakens, implying policy rates have room to be lowered, especially as the economy is in midst of a cyclical slowdown and calls to lower cost of financing remains strong.
In this regard, the RBI's recent report on household finances [1] highlighted the onset of deleveraging pre-dating COVID-19. Household gross financial assets ticked down from 11.1% of GDP to 10.6% of GDP in FY20, just as net financial assets rose to 7.7% (+0.5%), with the resultant 1% of GDP drop in financial liabilities signaling a cutback in borrowings. This occurred despite easing credit costs due to a dovish policy bent (-135bps cut). This deleveraging bout was likely driven by higher income uncertainty as well as weaker sentiments even prior to the pandemic hit, partly responsible for stark slowdown in private consumption in the past year.
Typically, a temporary income shock leads household to borrow to maintain consumption, however expectations of a protracted uncertainty trends to spur cutback in liabilities and increase in savings (cash and deposits). This trend - weaker appetite for leverage and increase in precautionary savings likely accelerated in FY21 given the pandemic-driven shock to confidence, incomes and employment prospects.
Notes: [1] Bank Deposits: Underlying Dynamics (Behera, Raut, Sinha 2019)
To read the full report, click here to
Download the PDF
.
Subscribe
here
to receive our economics & macro strategy materials.
To unsubscribe, please click
here
.