Indonesia 2Q GDP slumped -5.3% y/y surpassing consensus.
Indonesia 2Q GDP slumped -5.3%yoy surpassing consensus and reversing from a 3% growth in 1Q. With strict social distancing and movement restrictions in place for good part of 2Q, this underperformance was largely expected. The country's pandemic infection curve is yet to be brought under control, with East Java and Jakarta making up nearly half of the total cases. Low testing levels compared to its ASEAN peers is also seen as a risk, while fatality rates are high and on par with India and Philippines (per million basis).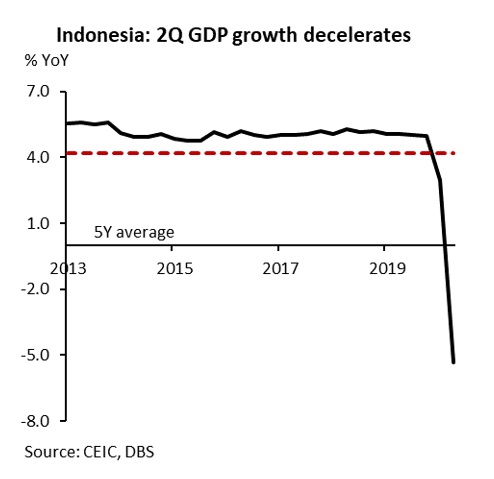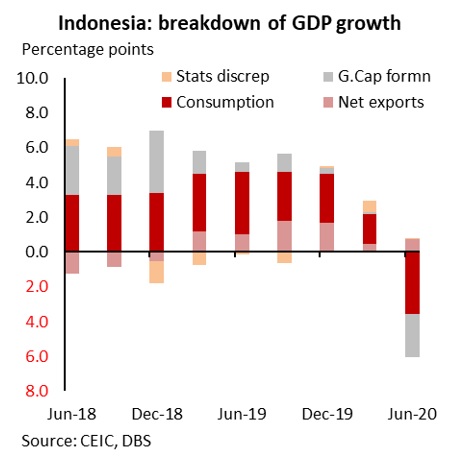 Slowdown was broad-based:
• Consumption (private and government), with the largest weight, contracted 5.7%yoy from +2.7% in 1Q and 4.9% average in 2019. With stringent restrictions in place, mobility indicators had signalled a sharp scale-back in non-essential movements, impacting not only demand but injecting income and employment uncertainty, not helped by the dominance of informal sector. Government spending fell 6.9%yoy, reflecting weak YTD (only 20% of target) fiscal disbursements.
• Capital formation hit the skids, tumbling -8.6%yoy compared to +1.7% in 1Q and 4.5%yoy. This downcast performance is also reflected in a fall in the capacity utilisation rate, which slipped to sub-70 for overall production and 61.8 in 2Q for manufacturing vs 71.8 in 1Q according to a Bank Indonesia business survey.
• Exports declined 11.7%yoy in local currency terms, impacted adversely by lockdowns, slump in demand from offshore trading partners and weak energy/commodity prices. Concurrently weak domestic demand depressed imports (-17%yoy), propping the trade balance but reinforced the deferment in infrastructure spending as well as private investment demand.
Growth in 1H20 averaged -1.2%yoy, weakest for the latest data series and shrinking for the first time since the Asian Financial crisis.
Into late 2Q and 3Q, social distancing restrictions are being eased in Jakarta and other provinces at a gradual and localised pace. Mobility indicators and other high frequency indicators (PMIs, sentiments etc.) signal improvement on the back of easing lockdown restrictions.
Instances of a second infection wave in parts of Asia point to challenges ahead. As highlighted in our earlier notes, Indonesia's response to COVID-19 was less stringent that most of its ASEAN peers, hence necessitating higher vigilance on containing the infection curve when rules are being lifted. 2Q likely marked the steepest part of the decline in output and we expect headline GDP to return to growth by 4Q assuming infection rate stabilises, reopen remains apace, and government disbursements are hastened. For now, we maintain our growth forecast at -1.0%yoy for 2020 but see marginal downside risks. Official projections are also likely to be lowered from the current -0.4% to 1% (government) and 0.9-1.9% (central bank).
Policy implications
Balancing recovery and the pandemic will be a priority for the Indonesian policymakers. Bank Indonesia has cut rates by 75bps yet far in 2020 to 4%. Given tame inflation (July inflation slipped below target), BI has room to cut by another 25bp this year if economy continues to weaken. This will need to be balanced with the need to preserve rate differentials to attract foreign flows.
Market participants have taken the BI-government fiscal burden sharing program in their stride. Assurances that it is a time-bound and temporary arrangement has strengthened confidence (see
Indonesia: Fiscal and growth dynamics
). The Finance Ministry expects fiscal pressure to persist, pegging 2021 fiscal deficit at -5.2% of GDP vs -6.3% targeted this year, despite growth estimated at a stronger 5.5% next year. Debt to GDP ratio is seen ticking up to 40% of GDP vs 30% in late-2019, but lower than most emerging market peers.
To read the full report, click here to
Download the PDF
.
Subscribe
here
to receive our economics & macro strategy materials.
To unsubscribe, please click
here
.