RMB has become a more attractive investment currency as evidenced by the increased foreign ownership in CGB.
• China-US tussles have spilled over into the financial sphere; this has ignited a fresh push by Beijing to internationalize the RMB.
• RMB has become a more attractive investment currency as evidenced by the increased foreign ownership in CGB.
• While off its 2015 highs, the RMB is now the sixth most used currency in international payments and is used for settling approximately 20% of China's trade.
• ASEAN is now China's largest trading partner. This has created an opportunity to enhance the RMB's use in cross‐border trade settlement.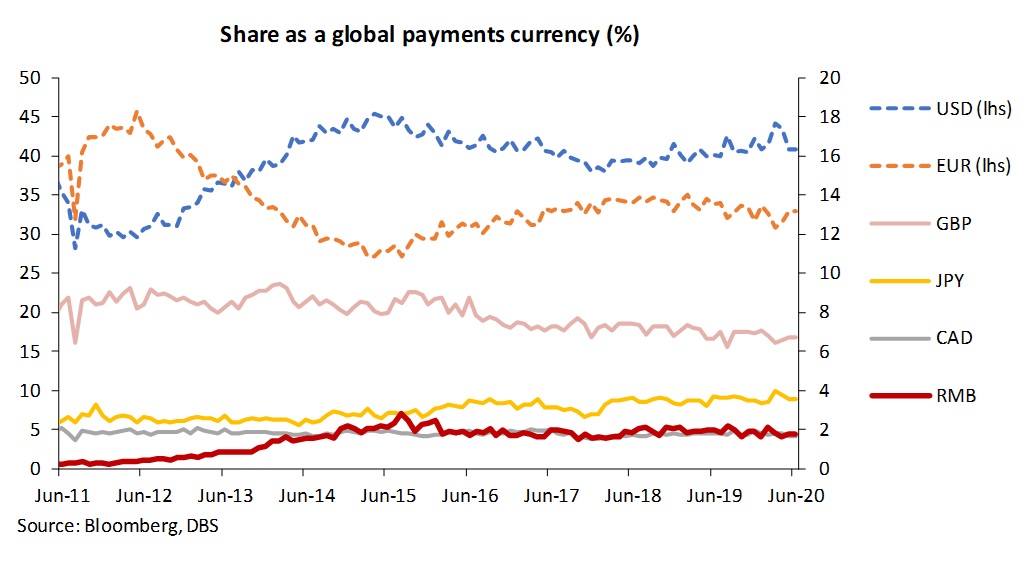 • Offshore deposits peaked at RMB1.6tn in 2015 and have since hovered around RMB1.1tn due to the tightening of currency outflow rules to staunch capital flight.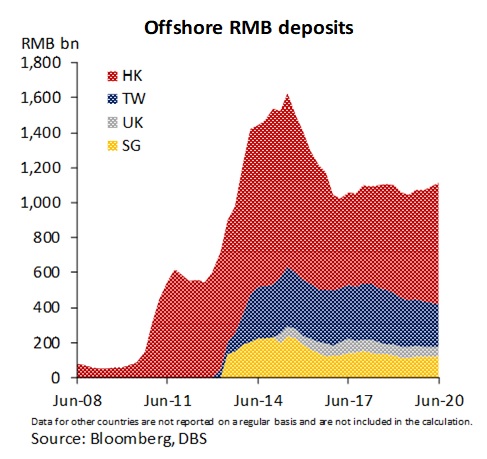 • Stringent control measures have also reduced the issuance of offshore bonds. The outstanding amount of dim sum bonds have declined sharply between 2016-2019, which in turn, had a negative impact on CNH liquidity.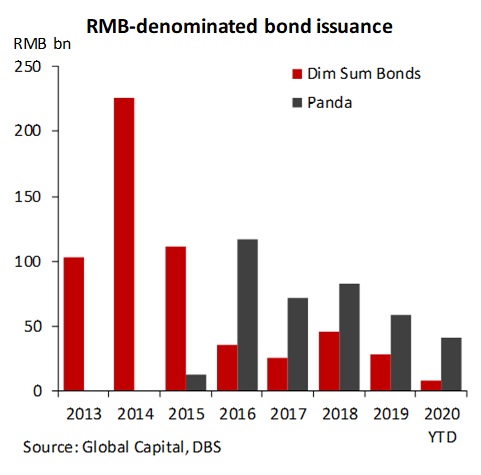 • Although the growth in offshore deposits has decelerated, the share of RMB in global central banks' reserves have almost doubled to 2% (or ~USD200bn) in 2019 from 1% in 2016.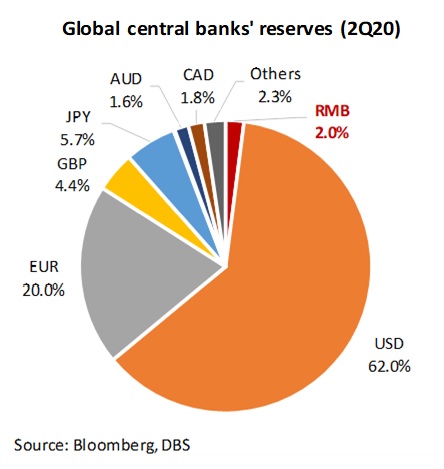 • RMB reserve allocations have benefited from the step by step opening up of the onshore markets, as well as the currency's relatively high returns compared with other reserve currencies.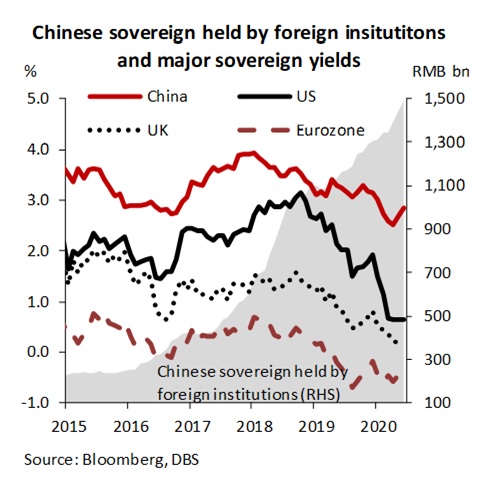 • Investment flows to China have risen from the opening of more channels i.e. the Stock Connect and Bond Connect, and increased quota for foreign institutional investors.
More index providers have included Chinese securities in their most widely used equity and fixed income benchmarks.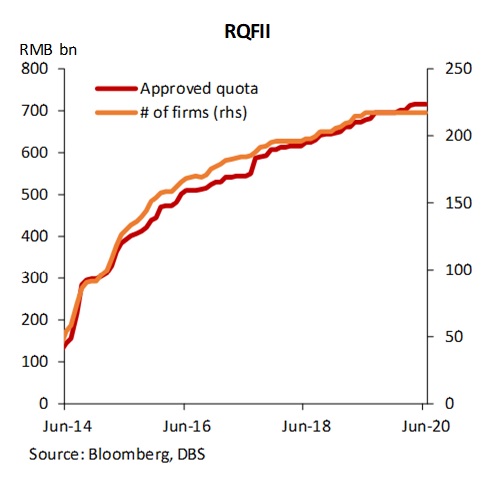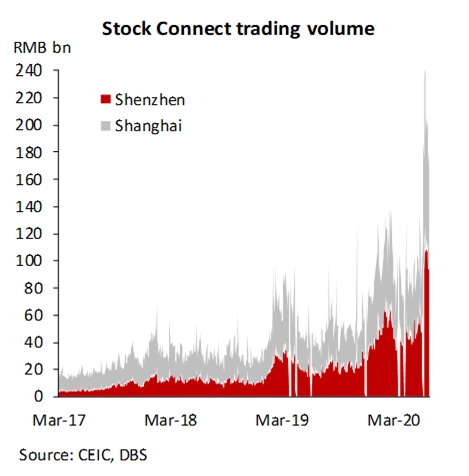 • Thanks to the liquidity measures arranged between PBOC and HKMA, offshore funding cost volatility have decreased notably.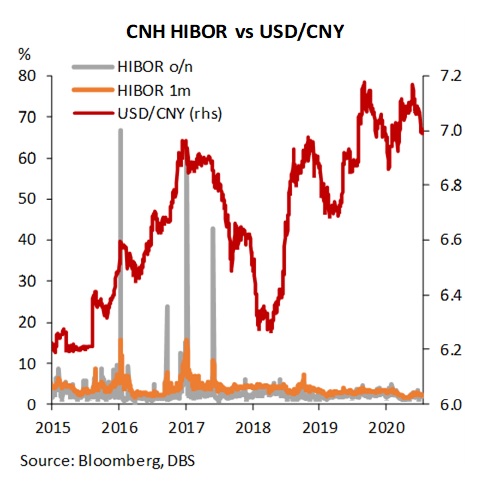 • About 20% of total trade were settled in the RMB in 2019. ASEAN has, as China's largest trading partner, created an opportunity to enhance RMB cross-border trade.
Corporates trading with China enjoy several advantages when they pay in RMB instead of other currencies e.g. reduced costs, access to a larger supplier base in the mainland and simplified internal processes.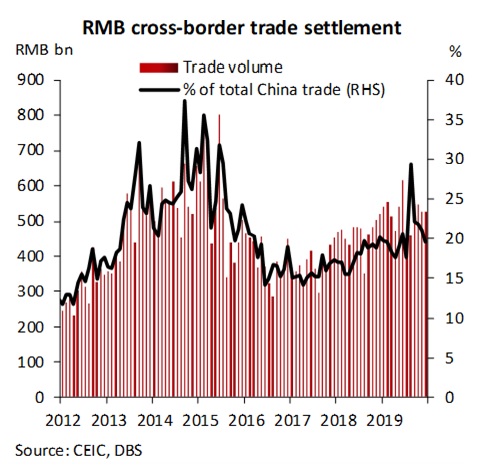 • RMB is now the third-most-active currency in trade finance (i.e. letters of credit and collections) after the US dollar and the euro, with a share of 1.9%.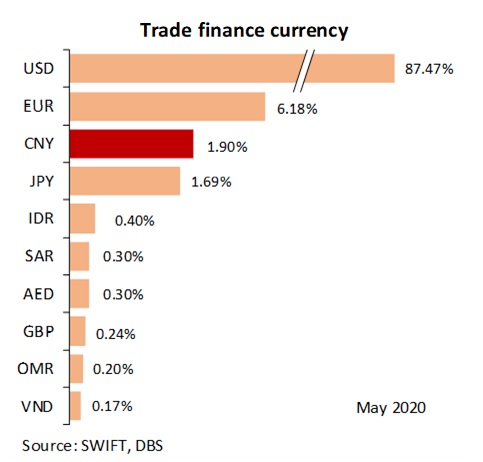 • RMB-denominated direct investments were launched in 2011. ODI peaked in 2016 on a buying spree and fell in 2017 from the stricter guidelines imposed by regulators. While ODI recovered in 2018-19, they did not return to 2016 levels.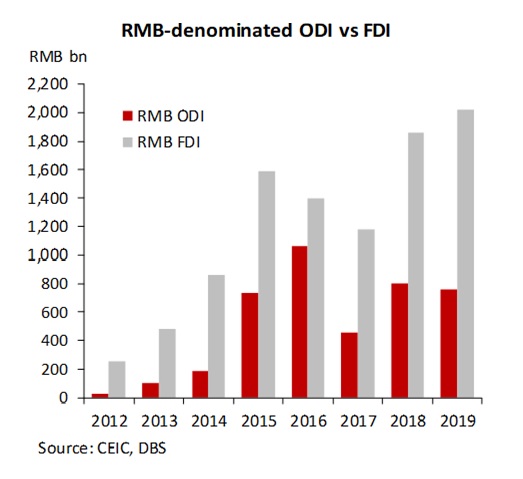 • Financial institutions are key enablers in cross-border transactions. As of July 2019, the number of financial institutions using the RMB for payments totaled 2214, up from 1989 in July 2017. The biggest increase was seen in Africa and the Middle East (20.1%) and driven by the Belt and Road Initiative.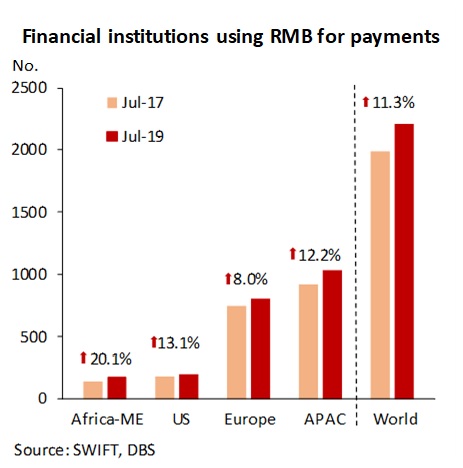 • Hong Kong is regarded as the world's largest offshore RMB center in terms of volume, followed by the UK and Singapore.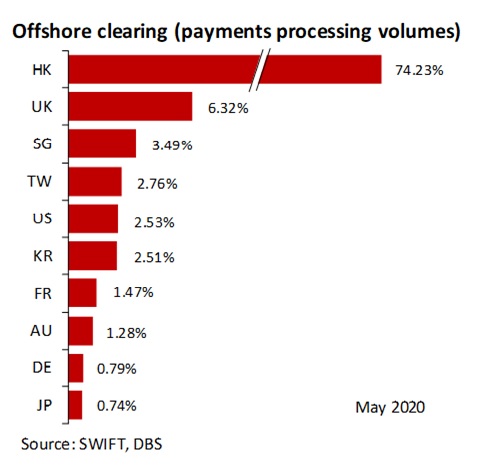 To read the full report, click here to
Download the PDF
.
Subscribe
here
to receive our economics & macro strategy materials.
To unsubscribe, please click
here
.