Relatively static policy rates and the market presence of Asian central banks underpin our outlook of an extended period of stability in Asian interest rates.
Overview: Geopolitics & Politics
US-China tensions are back in focus. While tensions appear to have been notched up amid more heated rhetoric, we think geopolitics have mostly been more noise than signal thus far. While there have been some wobbles in equity markets, global rates and FX have not displayed signs of risk-off. We expect Asia interest rates to be resilient even as China-US narrative get tougher in the run-up to the US elections in November.
In our view, the key pillars of interest rates stability remain intact. In recent reports (
Outlook for 2H
,
Stability favours carry opportunities
), we discuss our expectations for relatively static global policy rates and the likely continued market presence of Asian central banks to support government budget financing and smoothen rates volatility. These expectations ultimately underpin our outlook of an extended period of stability for Asia interest rates. Moreover, DM central banks are likely to keep policy settings accommodative for an extended period, suppressing volatility in the process, creating an environment that will be conducive for carry.
We identify two risk events that could prompt a view change. For the upcoming US elections in November, any perceived likelihood of a united government (sweep by Republicans or Democrats) could see financial markets price for greater prospects of fiscal stimulus and reflation. During the 2016 elections, the US rates curve bear steepened in respond to Trump's victory (allowing the Republicans to control both houses and the Presidency), dragging Asia rates along.
This year, however, the scope and extent of bear-steepening should be comparatively more limited. Even if a united US government materializes in November, any steepening should be measured given considerable challenges to the US and global economy.
While probably premature, Inflation could be one underestimated risk over the medium term. Recent inflation prints have undoubtedly been low across the region, with some countries in fact experiencing deflation. But if inflation surprises to the upside later in the year, whether through flush liquidity, supply side disruptions, stronger than expected economic recovery or a combination thereof, that could put Asia central banks in an uncomfortable position where real rates turn too low. Policy makers may have to pare back on liquidity injections and unconventional support measures, that have been effective in anchoring interest rates despite the ramp up in COVID-19 fiscal packages. In particular, we are worried about India where domestic inflation has continued to print near the top end of RBI's 2-6% target range.
Liquidity, Money Markets and Rate Pricing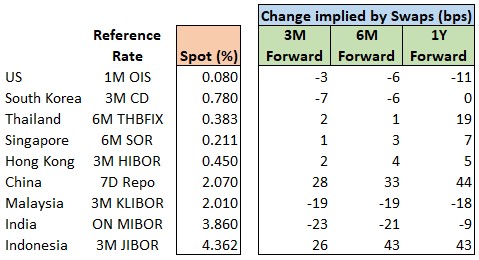 Based on swap pricings, policy rates are expected to be broadly stable across the region. This is largely a function of the exhaustion of conventional monetary policy space in many countries (policy rates close to or already at their lower bounds). It is only in Malaysia and India, where swap markets seem to be pricing for one last cut for this easing cycle.
China stands out from the rest in its liquidity stance.
Since allowing the 7D interbank repo to deviate 60-90bps below its reverse repo rate in April and May, the PBOC has recently been withdrawing liquidity via open market operations to drive normalization of spread between market and policy rates. Since June, ~CNY1.4tn has been withdrawn via MLF/TMLF and repo operations. Now that the 7D interbank repo rate is back up to 2.15-2.25% range (PBOC's 7D reverse repo is at 2.20%), it appears that normalization is complete, and we expect PBOC's recent tightening of interbank liquidity to come to an end. That should allow recent volatility in onshore funding markets and China Government Bonds to abate.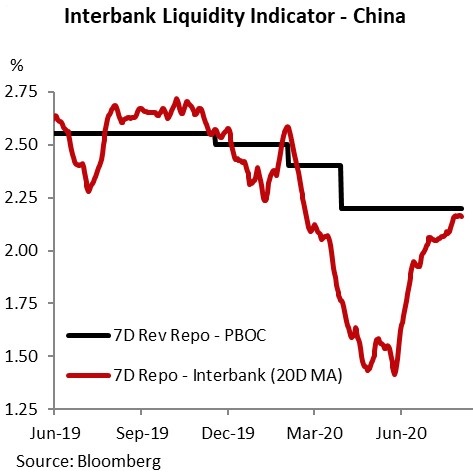 That said, current market pricing is slightly more hawkish, with onshore swaps pricing for the 7D interbank repo rate to rise a further ~30bps, essentially some overshooting above the policy rate. We however do not think the 7D repo rate will stay elevated beyond the short term.
Bond Flows
Year to date, only two sovereign bonds have seen net foreign inflows – China (average USD4.4bn/month) and South Korea (average USD2.8bn/month). Notably, the pace of inflows is higher for both economies in 2020 vs 2019.
With China Government Bonds, inflows have been underpinned by ongoing index inclusion processes and sizable rate differentials (unhedged) vs much of Developed Markets. For South Korea bonds, their status as Asia's safe haven bond have been a boon during bouts of volatility in March and against current low risk sentiments towards Emerging Markets. Still-wide KRW cross currency bases (3Y at ~-90bps) also bring attractive yield-enhancing opportunities for international investors.
Meanwhile, outflows from India bonds have been quite sizable relative to its own flow history, averaging USD1.7bn/month. As a result, foreign ownership has fallen to ~1.9%.
Malaysia bonds are the first to show strong signs of foreign capital returning, with June's inflows of USD2.5bn particularly large. Foreign investors are likely attracted to the scope for one more Bank Negara Malaysia rate cut, as well as one of the highest real bond yields in the region.
By contrast, foreign capital has been slow to return to Indonesia bonds. Fortunately, a narrower current account deficit this year (BI projecting less than 2% of GDP in 2020 vs 2.5-3.0% in 2019) helps to offset some of the impact of lower bond inflows on balance of payments.

Issuances Trends
For most countries in the region, we are forecasting gross issuances in 2020 to be between 1.50 to 1.75 times of 2019's.
In terms of issuance progress, most countries have completed 40-45% of their full year projected issuances by June (mid-year mark). Revised budgets in 2Q due to COVID-19 is the main reason why issuances appear to be behind the run-rate. This means that we could see the pace of issuances pick up slightly in 2H2020.
Within the region, Indonesia and India's progress appear to be the best. Indonesia has a 50% completion rate by July. Under the fiscal burden-sharing agreement with the Ministry of Finance, BI will be directly purchasing bonds via private placement of IDR398tn in 2H (~27% of projected gross issuance). Clearly, the agreement is crucial in ensuring that market issuance sizes are manageable for the market to absorb. In India's case, 4 months into FY20/21 (33% of year), the government has already raised INR4.5tn via market borrowings (37% completion vs INR12tn full year forecast).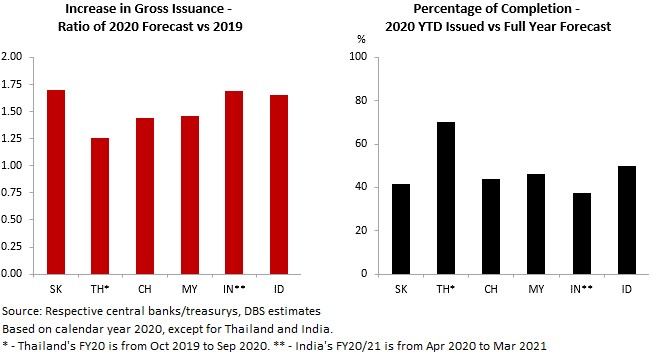 High Yielders
Indonesia:
Since news of burden-sharing discussions between Bank Indonesia (BI) and the Ministry of Finance was released, Indonesia government bonds have reacted quite differently to the IDR. Bonds have rallied with the 10Y yield declining 35bps and breaking below the crucial 7% level. Bond investors are likely relieved in the short term that BI would be absorbing a large chunk of the upcoming duration supply. On the other hand, the IDR has underperformed regional FX. FX markets appear slightly concerned that rapid expansion of BI's balance sheet could significantly increase the monetary base and weaken the IDR.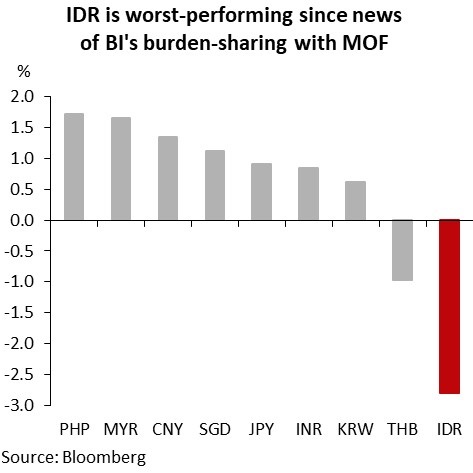 In our view, Indonesia's improving external balances (due to lower domestic demand) and BI's continued focus on IDR stability will cap any further IDR weakness. As such, we continue to like carry in 10Y Indonesia government bonds. In the following weeks, we will be monitoring how BI intends to sterilize bond purchases.
India:
The slope of the India GSec curve and GSec-OIS spreads tend to move together because both are market reflections of India's sovereign credit risks. They typically steepen/widen when India's credit fundamentals worsen and flatten/tighten when fundamentals improve. However, both indicators have recently been diverging.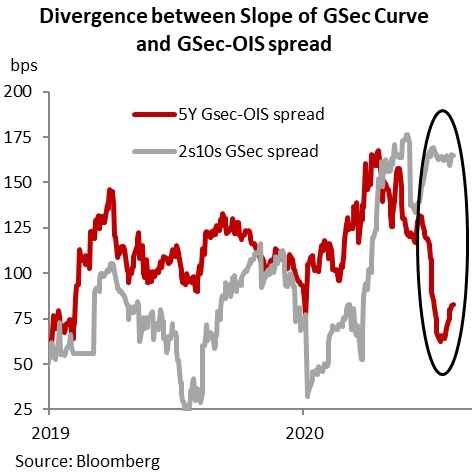 The 2s10s GSec slope has remained steep at around 160-170bps, indicating investor concerns remain around longer term issues, specifically risks around debt sustainability, inflation, fiscal position and credit ratings. The 5Y GSec-OIS spread has however tightened a massive 80bps since April, largely a result of subdued credit growth and significant surplus banking liquidity (INR6.4tn as of 2 August) overweighing investor concerns mentioned above.
We still like carry in India GSecs but prefer to be more cautious in how we express, particularly avoiding excessive duration risks. We like shorter tenor (2Y-5Y) GSecs that we think would be better anchored by RBI's policy rates and long term repo operations.
Low Yielders
Singapore:
USD weakness and ample SGD liquidity have nudged down short-term SGD rates as well as the ultra-long tenor (30Y). The intermediate tenors have not benefitted as much. We see value in the 5Y tenor of the SGS curve. Notably, the 2Y/5Y segment of the SGS curve is almost one standard deviation steeper than the UST curve. If inflows persist, investors will inevitably reach for more duration risk, benefitting the intermediate tenors.
We are not unduly worried about increased MAS bill issuances, noting that this action is a by-product of liquidity management, likely aimed at curbing overly low short-term SGD rates.
Recent underperformance in 10Y SGS appears unwarranted. 10Y SGS still has an almost 30bps premium over 10Y UST, too high in our opinion.
Mid Yielders

China:
PBOC has not made further cuts to interest rates or required reserve ratios (RRR) for some time, underwhelming market expectations in the process. The broad RRR was last cut in early January. With interest rates, the last reduction was to MLF and LPR rates in mid-April. Ultimately, there is little clarity on whether cuts would resume later in the year.
While the odds of further easing via the liquidity route may have receded somewhat, we think that 10Y China Government Bond (CGB) yields have likely peaked at 3.1% a few weeks back and the recent sell-off in CGBs offer a good entry opportunity. The PBOC has normalized monetary policy and the market has to deal with frontloaded government bond issuances, explaining why yields are relatively elevated. However, in this yield scarce world, CGBs may be one of very few places for longer-term investors to take shelter in. Upside in yields will likely be capped as we do not think the PBOC will embark on tight monetary policy.
To read the full report, click here to
Download the PDF
.
Subscribe
here
to receive our economics & macro strategy materials.
To unsubscribe, please click
here
.